Lindenwood University - 2014 B Division National Champions!
April 16th, 2014 at 4:05AM
April 16th, 2014 4:10AM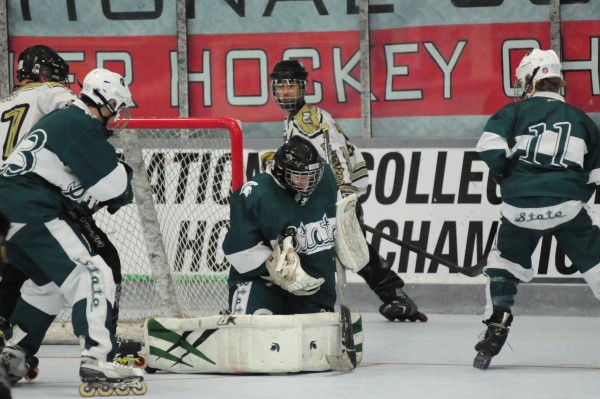 ---
By Kyle Jones
If we have learned one thing from the National Championships during elimination games it is this; it doesn't matter how a team gets the win as long as when the game is completed, your team has more goals than the other team. Lindenwood's B squad is a prime example of this.
The Lions entered the 2014 National Collegiate Roller Hockey Championships in Aston, PA in Pool A, set to face off against the best teams the B Division had to offer in the country. They proved they were the team to beat finishing with a perfect 3-0 record in round robin play.
In the Elite Eight, the Lions faced off against the University of Central Florida. The Knights proved to be a tough battle as they pushed Lindenwood University to the brink of elimination. The game went into overtime all knotted up at 3. It wasn't until a shot from Spenser Marquiss crossed the UCF goal line, winning the game for Lions.
Their Final Four matchup was a rematch against the Arizona State Sun Devils. A suffocating defensive performance by Lindenwood held ASU to only 8 shots in the game. They went on to win 4-1 to advance to yet another National Championship Game.
The only thing standing between Lindenwood's fourth consecutive B Division National Championship were the Spartans of Michigan State. This was the fifth time these teams played each other and it proved to be an instant classic. Both teams were very evenly matched as each team exchanged goals throughout the first two periods. Richard Kobylski put the Spartans up by one early in the third as MSU tried to hold onto that lead for the rest of the game. An absolute onslaught by the Lions followed as they tried to tie the game up. A costly penalty by MSU with 2:11 remaining put the Lions up a man. With 1:08 remaining, Justin Steller found the back of the net on the power play for Lindenwood, tying the game up at 3. But Lindenwood was not done. With just 11 ticks left in regulation, Evan Schulte was the hero for the Lions as he found twine giving the Lions a 4-3 lead. A shot in the final seconds by the Spartans fluttered into the corner and the buzzer sounded; with Lindenwood winning the 2014 B Division National Championship.
No matter the path taken, each team wants to see their team with at least one more goal than their opponent when the final buzzer sounds. Although they may have raised the blood pressure of a few Lindenwood fans and coaches, the Lions walked away with their fourth consecutive B Division National Championship. Congratulations to Lindenwood University!