2nd Semester Approaches: Spotlight on CSU Fullerton
WCRHL to post Spotlight Articles on each team leading up to their 1st event of the 2nd semester
WCRHL
January 5th, 2020 at 7:04PM
January 6th, 2020 7:51AM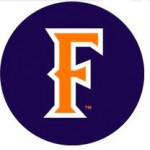 ---
One might call it a disappointing 1st semester for the California State University Fullerton Titans, but that would just be looking at their 2-4-1 record at face value and considering they were Division II National Champions last season. Each loss was within 3 goals, and the Titans were playing both events with a short bench, sure to be added to in the 2nd semester. The Titans did not seem worried going in and out of the rink at each event, as they know that the 2nd semester has more games than the 1st and their goal does not lie in their regular season record, it is looking towards the National Collegiate Roller Hockey Championships.
The Titans 2 wins come against Chico State (D2) and West Valley College (JC). They have faced Arizona State, their only in-division opponent, twice so far this season, and while they are 0-2, the losses were only 6-3 and 4-3, against a bench double the size of their own.
Fullerton goaltender Ron Best has faced 141 shots in 6 games, and has a 5.07 Goals Against Average. Considering that the Titans have scored 35 goals to their opponents 37 goals, it seems they are comparable to their opponents and willing to engage in a game full of trading shots and opportunities, rather than sitting back. Dylan Kammer and Troy Yano lead the team in points, with 7 goals a piece.
January 11 in Corona, CA the Titans will face Cal Poly (twice), Grand Canyon, and UC Santa Barbara. Then they will travel later in the month to Queen Creek, AZ to face Arizona State, Northern Arizona and Grand Canyon, and finish up their season on February 15-16 in Huntington Beach, CA.