Upset Alert! Cortland Claims First ECRHA D2 Championship
ECRHA
March 4th, 2023 at 9:34PM
March 5th, 2023 3:43AM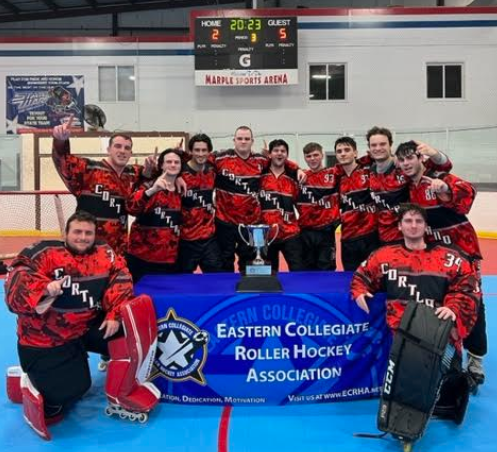 ---
In a thrilling championship game at Marple Sports Arena in Broomall, PA, Cortland defeated Northeastern 5-2 to win their first ECRHA D2 Championship title. Despite being outshot 25-21, Cortland got the better of their opponents on the way to the title.
Cortland took control of the game in the first period, with Ryan Bertoni, Michael Miano, and Joseph Messina scoring three quick goals to put the team up 3-0. Northeastern fought back, however, and Jason Stitt scored on the power play to cut the lead to 3-1 at the end of the first period.
In the second period, Northeastern came out strong and outshot Cortland 7-6, but only managed to score one goal from Stitt. Cortland goalie Braeden Brown made some clutch saves to keep his team in the lead heading into the final period.
In the third period, Cortland sealed the deal with two more goals from Miano and Michael Luzopone. Despite a late penalty by Northeastern's Page Lootsma, Cortland was able to hold on to their lead and secure the victory.
Luzopone was named the game's first star with one goal and two assists, while Miano earned the second star with two goals. Brown was named the third star with 23 saves and a .920 save percentage.
With this win, Cortland has now cemented their place as one of the top teams in the countyr and can look forward to competing for the NCRHA National Championship in April.