St. Louis Community College wins Junior College Division Championship!
April 23rd, 2019 at 12:55AM
April 23rd, 2019 6:11AM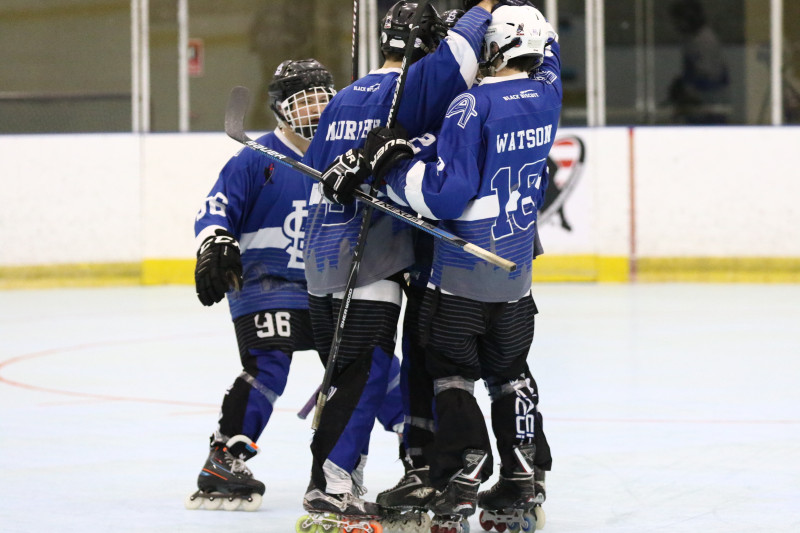 ---
After going 4-0 in round robin, defeating each of its' JC Division counterparts West Valley College and Henry Ford College, St. Louis Community College defeated Henry Ford College in the Junior College Division Championship Game by a score of 6-2.
Henry Ford was 2-2 after round robin, while West Valley College was 0-4. The format had the top 2 teams after round robin face off again for the championship. St. Louis CC had outscored its' opponents 31-13 after round robin, and once again in the championship outscored their opponent 3-fold.
It took St. Louis CC 8 minutes to get on the board in the championship game, with a goal from Jacob Murphy. Penalties dominated the first, but somehow all 5 power plays were killed off. St. Louis CC scored 2:51 into the 2nd, followed 2 minutes later by a Henry Ford goal by Dominic Stankiewicz. St. Louis CC added 2 more goals late in the 2nd and another early in the 3rd, to go ahead 5-1. Stankiewicz scored again for Henry Ford on the power play 2:47 into the 3rd, to make it 5-2. A final St. Louis CC goal with 4:17 remaining once again gave St. Louis CC a 4 goal lead, which they held onto until the final buzzer. 6 different Archers scored in the game, Casey Wingbermuehle with the eventual game-winner.
The championship is St. Louis Community College's first ever, and their 4th time being in the National Championship Game, the last time being 2011. The current Archers squad have competed in the last 3 National Championship events. Congratulations to the St. Louis Community College Archers!