Bethel University Wins Division IV Title
GPCIHL Conference Championship a Stepping Stone to the National Championship
April 23rd, 2019 at 12:59AM
April 23rd, 2019 6:10AM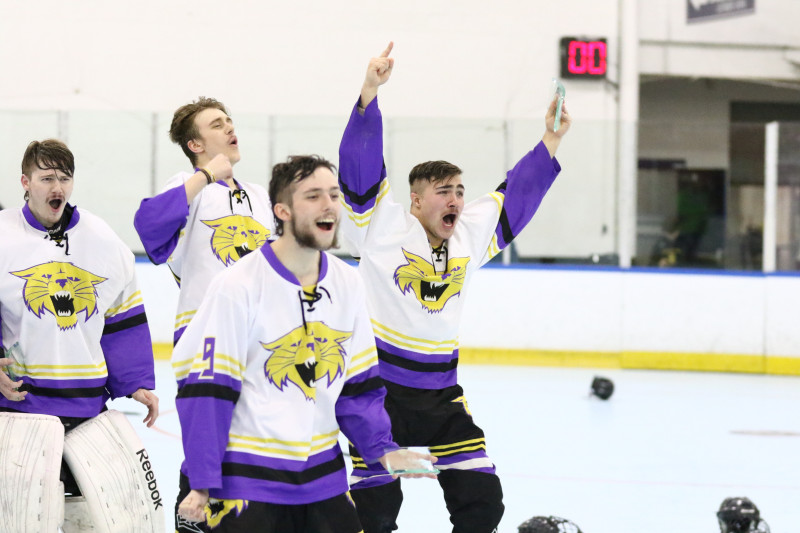 ---
Going into the event, the top 3 teams were pretty interchangeable, pretty even. But after round robin it looked like the cream was rising to the top. Bethel allowed just 5 goals in 3 round robin games, 2 of which were against Lindenwood and Farmingdale. Lindenwood was #2, Farmingdale #3, and Michigan State #4.
After each team took care of business in the first round of the brackets, the semifinals were set. Bethel would face Michigan State and Lindenwood would face Farmingdale. The last 2 year's Division IV championship games featured Lindenwood and Farmingdale, so these 2 teams were no mystery to each other. Unlike the past 2 years, it was Farmingdale with the win, but also Lindenwood being shut out. In the other semifinal, Bethel defeated Michigan State 4-1, setting up a Bethel vs. Farmingdale Division IV championship game.
In the final, it was Bethel getting on the board first, on the power play halfway through the 1st period,on a goal by Christopher Mahaffey. With 3 Farmingdale penalties in the 1st, to Bethel's 1, a power play goal was inevitable. In the 2nd period, it calmed down a bit, with just 1 penalty, and 1 goal a piece. Both goals were scored in the last 2 minutes of play, and Bethel took a 2-1 lead into the 2nd intermission. Bethel's Sean Matthews scored with 5:08 remaining in the game to make it 3-1. Farmingdale was charging hard, putting on a lot of pressure, but unfortunately that led to a penalty with 2:06 left in the game, making a comeback even that much harder. Then it was Bethel's Josh Hirst putting the nail in the coffin with 8 seconds to go on the power play, for the 4-1 championship win for Bethel University.