All Roads Lead Home
ECRHA
March 1st, 2019 at 11:43AM
March 1st, 2019 10:20PM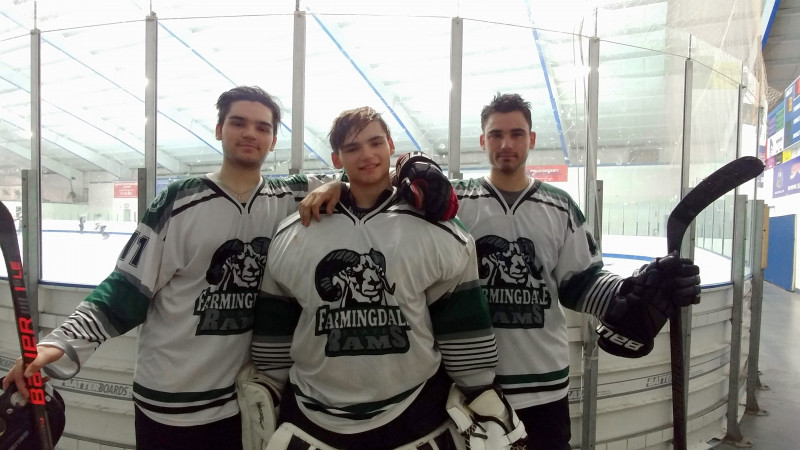 ---
Despite growing up living, eating, and breathing hockey, playing college roller hockey was something that I never thought was an option as I knew nothing of the NCRHA. I played whenever and wherever I could; house roller leagues, county ice hockey, high school ice hockey, high school roller hockey, the local park, etc. From what I'm told, I even wore out a spot in the living room rug where I used to set up my mini net in the living room when I was two or three years old. I introduced anyone and everyone to the sport in hopes that they would embrace it like I did. Thankfully, I have two younger brothers that were ready and willing to play with me as soon as they were old enough.
Farmingdale High School didn't have an ice hockey team during my time there so I was drafted to played for Roslyn my junior year and Lynbrook my senior year. So, being able to represent my high school wearing a Farmingdale Dalers roller hockey was a really a big deal to me. Unfortunately, the team folded after my junior year. I thought that was the end of roller hockey for me.
After graduating Farmingdale High School, I was lucky enough to be able to reinstate and coach the Farmingdale High School roller hockey team in the Islandwide High School League on Long Island. That team, the same team that folded my junior year of high school, was now home to my two little brothers, Matthew and Michael Muccio-Schrimpe. They were new to the sport and only in 8th and 9th grade, respectively. It started as well as you'd expect from a team comprised of friends gathered from the local park that had never played organized hockey before; 0-4 with 0 goals for and 32 goals against.
Within one year, I was fortunate enough to move up and fill the position as the Director of the Islandwide league. By now, my brothers and their teammates had put in the work and dedication needed and were now on their way to winning the Long Island Junior Varsity Championship for Farmingdale. Watching my brothers grow as players was special to me and getting more involved in growing the sport of roller hockey led me to commit myself to become a better player all around. At the same time, I started my college journey and started playing for Farmingdale State as a forward, as they already had a solid starting goalie. Eventually I found my way back into the net by the end of the season. It was only the team's second year in existence and we managed to win all but one game in the regular season and bring the Division 2 National Championship Cup home to Farmingdale after going undefeated in Missouri. The next year, we moved up to Division 1 but fell to Neumann in the Elite 8 in Cedar Rapids as we found out just how hard it was to win a D1 National Championship. Fast forward one year, and we headed to Ft. Myers as the #1 ranked team in the nation and brought the D1 title home to Farmingdale. You would think that winning a D2 and D1 National Championship would be all that I could ask for. Nope, we did it one more time in my third year after going 23-1 for the season and brought the D1 trophy back to Farmingdale again, this time from Fargo, North Dakota. My brothers were along for the whole ride and had long decided that they would commit to Farmingdale State and play. My brother, Matthew, was already playing for one our D3 teams by then. Although we were in different divisions and didn't play together, it gave us the opportunity to travel and room together for our road games. This year, as our youngest brother Michael went into his freshman year, we've had the unique opportunity for all three of us to play for Farmingdale State at the same time in different divisions.
Almost 5 full years after putting on the Farmingdale State jersey for the first time, I got to do the unthinkable. I got to play in a college game alongside my two brothers. Being that they are 4 and 5 years younger than me, I never thought we would ever get to wear the jersey of our hometown college on the same rink at the same time. We played in two different eras of Farmingdale High School hockey and 5 years later the two eras collided for us to wear the Farmingdale crest together, albeit at a higher level. A game in which I returned to playing out, for just one more game to relieve the net for my soon-to-be D1 goalie replacement, Michael. It was only fitting that my D-partner would be my other brother, Matthew. Two older brothers defending the youngest, as it always should be.
After the game, we returned to our own respective rosters for the remainder of this season. But, for that one game, my brothers turned into teammates. Our bond at home translated onto the rink. Home is where you belong, where your family is, where you and your brothers will do anything for each other. For me, Farmingdale is home. All the roads I traveled over the last five years led me to one game where I felt more at home than I ever have in my life.
I want to thank Matt Ketcham, Jim Tamburino, Dave Casazza, the ECRHA, Farmingdale State College, and my Mother and Father for everything they have done for me over the last five years.
Dustin Muccio-Schrimpe
Farmingdale State D1 Goaltender #70