Neumann Holds Off West Chester
ECRHA
October 22nd, 2016 at 8:03AM
October 22nd, 2016 1:25PM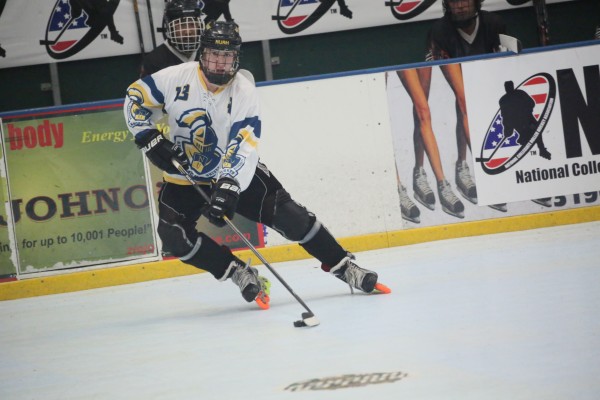 ---
West Chester University took Neumann University to the brink this morning, but the experienced Knights held off a rapidly maturing West Chester squad.
The victory improves Neumann's unbeaten streak against West Chester to 19 games (17-0-2). Neumann also improved their ECRHA winning streak to 63 games in all competitions. The last loss coming on March 9th, 2014 when the Knights fell 6-5 against the Hofstra Pride in the 2013-2014 Division 1 ECRHA Championship.
Neumann overcame a delay of game at the start of the contest, when the starting goaltender was sent off the rink for using an illegal cat-eye. The Knights responded though and jumped out to a 3-0 lead, Shane Fox picked up a pair of goals in the opening frame.
The second period was all West Chester, as they scored three different ways, on the power play, penalty kill and at even strength to knot things a 3-3.
The two teams exchanged goals early in the third period, before West Chester got into penalty trouble and Neumann made them pay. Michael Strofe and Ryan Carr scored power play goals 57 seconds part to put Neumann up 6-4.
David Delseni scored his second of the game just 26 seconds later to cut the deficit to one with 6:49 to play. The teams exchanged chances over the final six minutes, but West Chester couldn't find the back of the net.
Neumann and West Chester will face-off again on November 19th at 9:00pm at The Sportsplex in Feasterville, PA in the final meeting of the regular season between the long time rivals.