2017-2018 ECRHA All-Star Rosters
ECRHA
February 11th, 2018 at 11:34AM
February 17th, 2018 4:55PM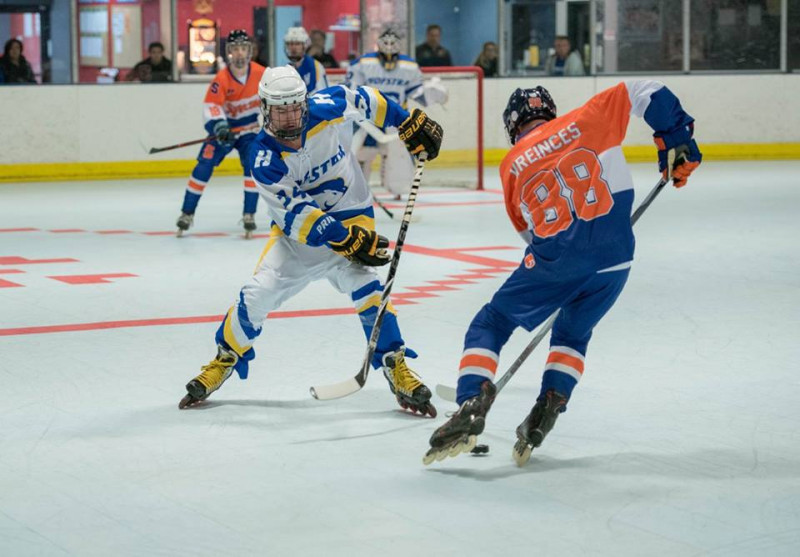 ---
Old Bethpage, NY - Next weekend the ECRHA will make its annual stop at SkateSafe America in Old Bethpage, NY for the league's season ending All-Star Event. With nearly every team, across four divisions, playing on the final weekend with hopes to make the 2017-2018 ECRHA League Championships.
The Division 1 vs Division 2 All-Star game will start at 7pm.
Following the game, the skills competition will commence with players from across the league aiming to win the fastest skater, breakaway challenge and goaltender competitions.
The Division 3 vs Division 4 All-Star game will start immediately following the conclusion of the skills, estimated to be around 8:15.
D1
1
Chris Russolello
Farmingdale
2
Daniel Nelson
Cortland
3
Derek Hoffman
West Chester
4
Dillon Scott
Slippery Rock
5
Donald Brodd
Massachusetts
6
Greg Bernhardt
Rowan
7
Jake Corso
Farmingdale
8
Jesse Zahn
Robert Morris
9
John Carroll
Massachusetts
10
Anthony Giannelli
Rhode Island
11
Michael Strofe
Neumann
12
Ralph Grillo
Temple
13
Sean Phelan
Neumann
14
Tyler Kraft
Farmingdale
G
John Whitman
West Chester
G
Dustin Muccio-Schrimpe
Farmingdale
D2
1
Collin Ewald
Hofstra
2
Corey Eisenband
Endicott
3
Jack Tofallos
Oswego
4
Jake Ratzker
Yeshiva
5
Kyle Lewandowski
RIT
6
Marc Orlin
Syracuse
7
Matt Kaski
Endicott
8
Nigel Grove
Hofstra
9
Oliver Israel
Boston
10
Samuel Murray
RIT
11
Tevor Calleja
Stony Brook
12
Thomas Keith
Northeastern
13
Tyler Murphy
Penn State
14
William Hunt
Northeastern
15
Ari Drazin
Yeshiva
G
Rory Buckley
Stony Brook
G
Zachary Orcutt
RIT
D3
1
Bobby Litras
Farmingdale Green
2
Brendan Azoff
Cortland
3
Christian Luke
Rowan
4
Christian Schnitzler
Temple
5
Colin Tinschert
Farmingdale Green
6
Griffin Boedicker
Northeastern
7
Jake Pearlstein
Rowan
8
James Kolokathis
Farmingdale Green
9
Joseph Salavec
Farmingdale Black
10
Mark DeAngellis
Slippery Rock
11
Matthew Horcher
Cortland
12
Michael Santori
Farmingdale Black
13
Nicholas Smith
Slippery Rock
14
Vincent Ruggieri
Cortland
G
Daniel Perepezko
Farmingdale Green
G
Frank Wirth
Farmingdale Black
D4
1
Bobby Yevoli
St. Joseph's
2
Brian Hartmann
Stony Brook
3
Bryan Dunton
Millersville
4
Bryan Solinski
Niagara
5
Chris Tedesco
St. Joseph's
6
Daniel Pike
Cornell
7
Daniel Tobin
Vermont
8
Hunter Boal
Millersville
9
Jake Tristano
Vermont
10
Joseph Dwyer
Farmingdale
11
Kevin Spillane
Baruch
12
Peter Lambrou
Baruch
13
Ryan McCallen
Hofstra
14
Thomas Fisher
Millersville
G
Sam Reynolds
Hofstra
G
Joseph Tedesco
St. Joseph's