Lindenwood University - 2014 Division I National Champions!
April 16th, 2014 at 4:09AM
April 16th, 2014 4:10AM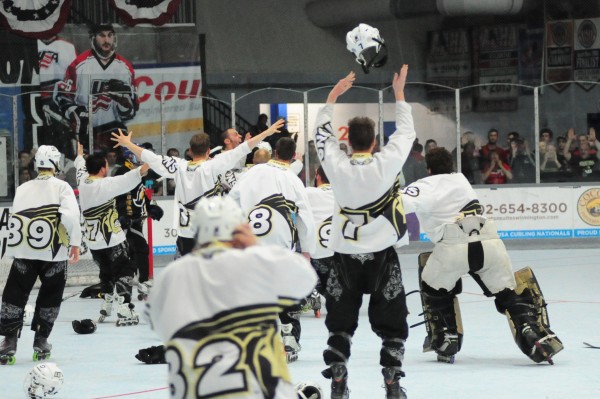 ---
By Nick Robone
The Neumann University Knights and Lindenwood Lions were ranked one and two for the majority of the year with only Michigan State creeping up on their heels. Therefore, it was only fitting these two powerhouse programs met in this year's Division One final. Now, normally Lindenwood is the team with the largest fan base at the NCRHA nationals however, this year was different. With the IceWorks Sports Complex being located only a couple miles from Neumann's campus, they brought fans, and lots of them. It was standing room only for this one and of the couple hundred people there 75% were wearing NU blue and yellow, cheering on the hometown team. It was rowdy, to say the least. Before the puck even dropped you could hear Neumann's fans chanting, "this our house" from nearly half a block away as they poured into the bleachers. With both teams having gone undefeated in preliminary play and only surrendering 9 goals total in those contests, it was set up to be a classic and this one did not disappoint.
This was a real chess match early. Each team would have a few opportunities but the majority of the first period was puck possession and defense, with neither team having an edge on the other. Starting goalies, Mike Maczynski and Brett Humes brushed away any low key scoring chances but, the speed of this game was fast, extremely fast. With many of these players having played high levels of roller hockey it was no surprise these two teams had easily the most skill in the tournament and it was just a matter of time till someone found the back of the net.
Neumann was that team, scoring a power play goal by Shane Fox from line mate, Nick Allison. It was a great pass across the slot, sneaking through Lindenwood's penalty kill and finding its way on to the stick of Fox, who hammered a one timer through traffic beating Humes. Nearly, two minutes after the Knights capitalized on a power play, Neumann's Johnathan Lucente would head to the box for a high sticking penalty giving Lindenwood an opportunity of their own. The power play was graciously controlled by the Lions as they moved the puck quickly but, Neumann did a great job shutting down the passing lanes and eventually killed off their lone penalty of the game. The fans would exchange chants of, "L! U!" and "We can't hear you!" as time winded down to one minute left in the second. Just as Neumann looked like they would get out of the period unscathed, Lindenwood's Joe Bostic ripped a quick wrist shot through the defender's legs, netting LU's first goal of the game with 45 seconds to go in the second. Although much of the game was played defensive minded for both sides, with puck control being the clear strategy, Lindenwood held a 15-8 shot advantage after two.
The beginning of the third saw the intensity of the game pick up a notch, as both squads increased the physicality and energy. It was Lindenwood that stuck first, as Brennan Luscombe was set up by Cody Kettler for an absolute snipe over the shoulder of Maczynski just 90 seconds into the final frame to give the Lions a 2-1 lead. The Knights, and Neumann faithful, would not let up. Determined to get back to even, they sent wave after wave of offense into the Lindenwood defenseman. Unfortunately, many of their shots were blocked or pushed to the outside. However, with 3:57 to play in the game and only down one, Neumann had life when Kettler pulled down one of the Knights for a two minute minor. Despite the great puck movement and possession, NU did not generate many quality chances. Any shot that did reach the net was eaten up by Humes. As time winded down, Neumann would pull their goal for a five on four man advantage with only 40 seconds left. Shots came from all angles but Lindenwood was able to hold their composure during the Knight's last flurry and would win their tenth NCRHA championship in school history. Neumann had a phenomenal season and should be proud of a valiant effort. We hope everyone enjoyed this one and we look forward to seeing you in Independence, MO next season!