#15 Hofstra takes down #9 Stony Brook
ECRHA
November 18th, 2017 at 10:59AM
November 18th, 2017 5:07PM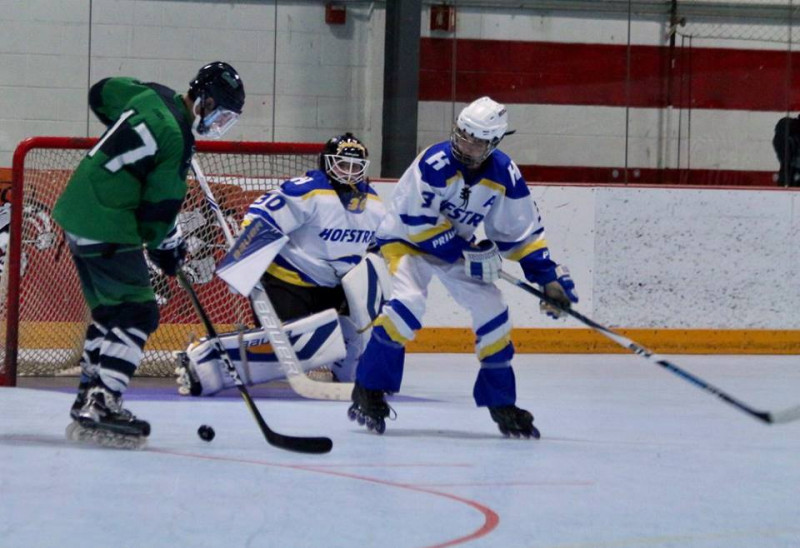 ---
Feasterville, PA - Hofstra scored a huge victory over Stony Brook this morning, upsetting the 9th ranked Seawolves by a score of 5-1.
Nigel Grove lead the way for Hofstra, scoring once and chipping in two assists in the victory.
Grove now has 34 (12g, 22a) points on the season, which leads D2 in scoring for the ECRHA and is 3rd nationally.
Hofstra improves to 7-4-1 on the season and is currently holding onto the final playoff spot in Division 2.
Stony Brook falls to 6-4-0 and sits 2 points out of a playoff spot.

Additional Scores:
D2: Boston 1 St. Joseph's 0 - Forfeit
D2: Penn State 5 Drexel 1 - Tyler Murphy (PSU), 1 goal 2 assists
D3: Northeastern 8 Temple 3 - Joshua Lee (NU), 4 goals
D3: #2 Farmingdale Green 10 #10 Cortland 1 - Bobby Litras (FSU), 5 goals 3 assists
D3: #8 Rowan 2 Slippery Rock 0 - John Clark (RU) - 24 save shutout
D2: #2 East Carolina 7 James Madison 1 - Quinton Stallings (ECU) - 5 goals 2 assists
D1: #5 Neumann 12 Rowan 1 - Tyler Kraft (NU) - 1 goal 6 assists
D2: #15 Hofstra 11 St. Joseph's 3 - Andrew Gagnon - 4 goals 1 assist
D2: #9 Stony Brook 7 Drexel 1 - Trevor Calleja - 2 goals 2 assists