Annual Fall Stop On Long Island In The Books!
By: Brayden Durnell
ECRHA
November 8th, 2017 at 1:42PM
November 8th, 2017 7:43PM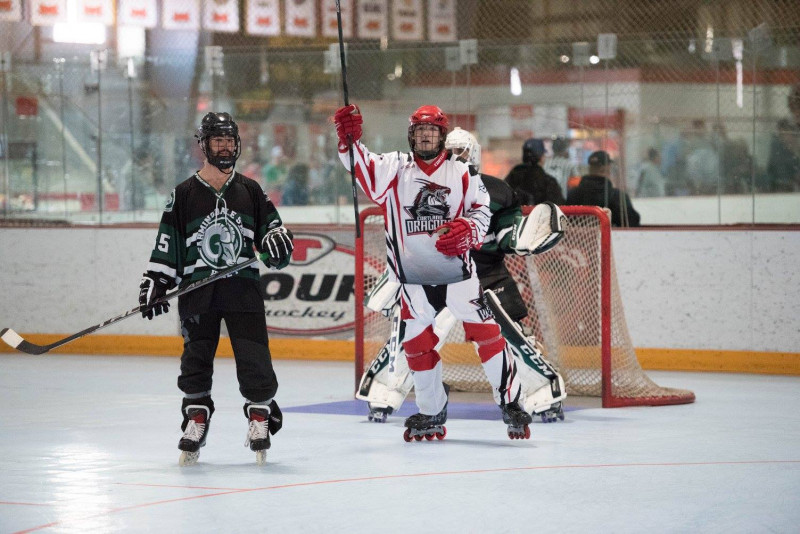 ---
The ECRHA paid a visit to the home of the NCRHA D1 National Champions this past weekend. Old Bethpage, New York. The weekend saw 22 teams across all four divisions playing in ever-crucial mid-season matchups. We saw a lot of tight contests, and a few games in which it seemed as if the timekeeper never stopped writing numbers on the scoresheet.
Division One
In Division one, we saw the defending national champion Farmingdale Rams return home in impressive fashion. The Rams showed they do not intend on giving up their championship easily this year, cruising to victories in all four of their contests. Farmingdale started the weekend with an 11-1 win over Cortland, Led by Jake Corso's six points. Farmingdale continued to cruise through the weekend, putting up double digits in each of their games, with wins of 16-1 over Rhode Island, 10-2 over UMass, and 14-2 in a second match against the Red Dragons of Cortland. The Rams now sit 4 points ahead of second place West Chester and Slippery Rock in the D1 standings, and currently average just 2 goals against per game. With the rate of which Farmingdale can score, it's going to be difficult to beat them with statistics like that.
Cortland is a team that was very impressive in Old Bethpage. Cortland finished the weekend 2-2, with their two losses coming to Farmingdale. They got wins against UMass 6-5, which saw Zach Adams score what would turn out to be the game winning goal with 5:20 left in the 3rd. They also beat a struggling Rhode Island team 4-3 in overtime with Dan Nelson winning the game for the Red Dragons. Dan Nelson has been a force for this Cortland team, who now sits at 4-3, currently 5th in the standings. Nelson, with 22 points, has contributed a goal or an assist on 73% of the teams total goals throughout this season!
UMass is a team that may have disappointed themselves this weekend, losing a close game to Cortland 5-6, and losing to Farmingdale 10-2 before defeating Rhode Island on Sunday 8-4. This is a young UMass team, which many were not sure what to expect coming into the season. They've shown that they can keep up wit the competition so far this year, as they are 2-3-1 this season and 6th in the standings, but have things they can improve on and be a top contender this year.
Rhode Island came ever so close from the early season "upset" of the weekend when they fell to Cortland 4-3 in overtime. This Rhode Island team has started off the season in a slump, as this past weekend they lost to Farmingdale 16-1, UMass 8-4, and the overtime loss mentioned above. Rhode Island is a team which will look to leadership from a veteran such as Kyle Alvanas as the season progresses to attempt to make a run at a regional playoff spot.
Division 2
We have a new team in first place in the Division two standings, and that team is the Yeshiva Maccabees. Yeshiva managed to spend their Saturday night and Sunday morning at Skate Safe securing four wins and improving their record to 7-0. Their first win of the weekend would come against Hofstra, 7-1. On Sunday, the Maccabees, led by Jake Ratzker in points, would jam three games into a busy sunday, with wins against Endicott 6-1, Boston 10-5, and Stony Brook 6-1. Yeshiva is proving that last year was no fluke, and that they mean business this year, hoping to compete all season long towards a regional, and national championship.
Not far behind Yeshiva are the 5-0-1 Northeastern Huskies. The defending ECRHA champions started off the weekend strong, as they've looked all year, with a 6-2 victory over Hofstra. However, the Huskies would fall short, and lose their first game of the season at the hands of Stony Brook 2-1 Saturday afternoon. Northeastern would then conclude their weekend with a 4-3 win over Boston University.
The Pride of Hofstra had a somewhat disappointing weekend in Bethpage, as they would not be able to add to their win total on the season. Hofstra would lose their games to Northeastern 6-2, Endicott (6-5 OT), and Yeshiva 7-1 this past weekend. Hofstra has played the most games out of any D2 team so far this year, at 10 games played, and currently sit tied for 3rd in the standings with 11 points. Although the Pride should not feel entirely comfortable as their are multiple teams nipping at their heels in the standings of a hotly contested division.
One of the teams Hofstra should be concerned about are the SeaWolves of Stony Brook. Stony brook managed to finish their weekend on Long Island with a 3-1 record, with their only loss coming at the hands of Yeshiva on Sunday. Stony Brook managed to most likely win the award for most entertaining games of the weekend, as they would beat Boston in a close game 6-4, followed by two overtime wins against Endicott 7-6, and Northeastern 2-1. Stony Brook right now has a 4-3 record, but seems to have a winning mindset ready for the rest of the season.
Another contender whom had an interesting weekend were the Gulls of Endicott. Led by returning scoring champion Corey Eisenbrand, Endicott split their games on the weekend, going home with a win 6-5 against Hofstra in overtime, but also lost to Stony Brook 6-7 in overtime, as well as a disappointing 6-1 loss at the hands of Yeshiva. Endicott currently is at 3-2-1 is on the outside looking into the playoff picture, however their is plenty of season ahead for the Gulls to work their way back into the regional championship.
Closing out Division Two, Boston is having a tough time this season, and Bethpage was no exception. The Terriers did not manage to win this past weekend, with losses at the hands of Stony Brook 4-6, Northeastern 3-4, and Yeshiva 5-10. With 63 goals against, defensive holes seem to be Boston's issues so far this season, if the Terriers can adjust accordingly, look for them to attempt to turn their season around going forward. Boston is currently 0-6, and in last place in the D2 standings.
Division 3
In division three action, we saw Farmingdale's returning regional championship team, this year going under Farmingdale Green, as the school has two teams participating in D3, continue their reign of dominance among other D3 opponents. Farmingdale, giving up 5 goals combined in their four games this past weekend, notched four more wins in the win column, 8-1 over Rowan, 13-1 over Northeastern, 8-1 over Cortland, and 7-1 over their sister team, Farmingdale Black. Goaltender Daniel Perepezko with yet again another stunning performance in the stat line, with a .80 GAA, continues to shut the door whenever it is that Farmingdale's counterparts do get scoring opportunities.
The sister team we mentioned, Farmingdale Black, did not have as impressive of a weekend themselves. Farmingdale Black finished the weekend at 2-2, bringing their total record to 3-2. Farmingdale's losses came at the hands of Cortland 3-1, and Farmingdale Green 7-2, while their wins were against the Profs of Rowan 6-3, and Northeastern 5-4.
Northeastern themselves had someone of a tough weekend, as they would only find one win against Rowan in a goal scoring battle of a 10-9 victory in overtime. It was Huskie's points leader Thomas Keith who would score the winning goal for Northeastern, giving them their first and only win on the season so far. Northeastern's losses in Bethpage came at the hands of Farmingdale Green 13-1, Farmingdale Black 5-4, and Cortland 7-6. Aside from their first game of the weekend against Farmingdale Green, the Huskie's kept every one of their games within one goal, now, look for them to improve on closing out those close games and becoming a contender the rest of the way through division three.
Speaking of teams who may not be happy with their results this past weekend. The Rowan Prof's finished the weekend 1-2-1, with their only win coming against Cortland 10-1. The Prof's lost their surrounding games to Farmingdale Green and Black 8-1 and 6-3 respectively, and Northeastern in that same overtime thriller 10-9. The Prof's are now at 4-2-1 on the season, tied for 2nd in the D3 standings, however, going forward they will look to minimize their mistakes to become an elite D3 team down the stretch.
The Red Dragons of Cortland continue to scratch and claw their way to wins even a year later. Last year, Cortland surprised quite a few people down the stretch, playing tough games throughout, and this year seems to be no different. The Red Dragons who went 2-2 this past weekend managed to defeat Northeastern 7-6 as well as a hard fought 3-1 victory over Farmingdale Black. Althought they lost to Farmingdale Green 8-1 and Rowan 10-1. Cortland has shown promise again this year in a tightly contested D3.
Division 4
The division with the largest number of teams at Skate Safe over the weekend, D4, was one which saw no clear cut powerhouse throughout the weekend. Division Four is an interesting one in the ECRHA this year, as it seems as though teams continually are trading wins here and there with no clear cut favorite, which adds an immense amount of excitement with each matchup.
Baruch is an impressive team this year in D4, and this past weekend was no different. The Bearcats finished the weekend with a 3-1 record, with their only loss coming to Vermont 5-3, while they defeated Farmingdale 8-4, Hofstra 3-2, and St Joseph's (NY) 8-5. Baruch with their 3-1 record is 3rd right now in the division four standings and looks as a solid team to challenge the preseason favorites Millersville and St. Joseph's for the regional championship come Spring, but there is a lot of hockey left to be played.
Speaking of the Golden Eagles, St. Joseph's put together an impressive weekend of work, with their only loss of the weekend coming to aforementioned Baruch. In their other matchups, St. Joseph's handled Niagara 6-3 and Stony Brook by a score of 11-0. Bobby Yevoli and Chris Tedesco continue to pace the scoring for St. Joseph's, could this be the year that they get their elusive D4 championship? Only time will tell.
The "home team" had a difficult time this weekend in D4, as Farmingdale would lose their first two games of the weekend 8-4 to Baruch and 7-3 to Niagara. However, they would gain some confidence and momentum to end the weekend with an 8-3 win over Stony Brook. The Ram's have had an unsolved issue defensively this year, but as a team, and as is common with teams from their school, know how to put the puck in the net. If the Rams can solve their issue on their end of the rink, they will slowly chip away in the standings.
Another team which had a rough go about this past weekend were the Purple Eagles of Niagara. With losses to St. Joseph's (6-3) and Hofstra (5-4) Niagara could only manage one win on the weekend against Farmingdale (7-3) to improve their record to 2-4-1. As a team that contended in regionals last year, it is shown that Niagara is still rebuilding their program, and looking for ways to solve issues on both ends of the rink going forward this season.
The team who managed to jam five games into their schedule was the Hofstra Pride, and even with a busy weekend, the Pride managed to emerge from the weekend with a 3-2 record over the course of the 2 days. As they defeated Vermont 3-1, Niagara 5-4, and Stony Brook 4-1, while their downfalls came against Baruch 3-2 and Vermont 4-2. Hofstra sits contently with six points and third in the standings so far this year. Although they have room for improvement, the Pride are not a team to shy away from looking forward.
The Catamounts of Vermont lost an extremely close, hard fought game to Hofstra 3-1 to start the weekend. However, were able to bounce back significantly well and finish the weekend 3-1 with wins against Hofstra on the tail end of a "home and home" 4-2, as well as Stony Brook 11-1 and Baruch 5-3. Vermont is an interesting team who seem to keep games close throughout, but just haven't found that extra gear to close out all of those games. If Vermont can figure out what is going wrong late in games, they also could make some noise and shake up the D4 standings.
The Stony Brook Seawolves have not had a very satisfying season so far in D4. The team is 0-4 with 5 goals scored and 34 against, a ratio that any team would like to see reversed. Stony Brook's losses were a result of St. Joseph's (NY) 11-0, Vermont 11-1, Farmingdale 8-3 and Hofstra 4-1. On paper, this team may look extremely disappointing, however, there is promise for the Seawolves. They finished the weekend with a close game against Hofstra and kept the shots on goal very narrow, forcing the Hofstra goaltender Sam Reynolds to make 22 saves. This loss to Hofstra can show Stony Brook that they can easily compete in division four, and with a few minor adjustments, a few wins under their belt, and could really surprise some spectators throughout the rest of the year.
The ECRHA season is nearing the halfway point, with two events left in the Fall Semester. The league travels to North Arlington, New Jersey this weekend, November 11th where we will see a slew of extremely competitive D1 and D2 games which could in turn help us shake out the bit of a logjam that both of the divisions are seeing within their standings.
Brayden Durnell
ECRHA Correspondant