Dracut Recap
ECRHA
February 9th, 2017 at 9:02AM
February 11th, 2017 3:03PM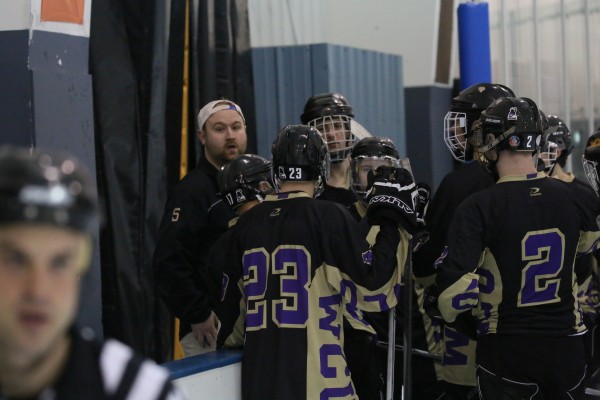 ---
The ECRHA continued the 2nd half of the season in Dracut, MA, as D1, D2, and D4 took to the rink, and we had a couple relative surprises throughout the weekend. In D1 contests, we saw Rhode Island shutout and upset UMass 1-0 in an absolute chess match. It was Stephen Falkowski who finally solved Jordan Davis at 9:21 of the third period to upset the Minutemen, and earn a valuable tally in the win column for the Rams. UMass also suffered a loss at the hands of a red hot West Chester team, 4-0 on Sunday. West Chester's only loss on the weekend came to start their schedule against UMass on Saturday, followed by wins against Cortland (6-2), Rhode Island (3-1), as well as the 4-0 victory against UMass. They now sit at 10-3 with a game in hand on UMass for 2nd in the standings.
Division 2 saw Northeastern continue to keep pace with Stony Brook, going 3-0 on the weekend with victories against Endicott (5-2), Oswego (6-1), and Boston (6-1), improving their record to 11-2-1 just one point behind the Seawolves for 1st in Division 2. Endicott also kept pace with the rest of the pack in the hunt for Regionals seeding as they took home wins against Boston (4-2), and Oswego (5-1). Division two has only 5 points separating 1st and 4th, with between 4 and 5 games remaining, a lot could be shuffled around before the regional tournament in March.
Division Four games were a bit out of the ordinary in Dracut, as Baruch could not make the trip, Cornell, St. Joseph's (NY), and Farmingdale all received victories in the standings. Farmingdale also received a forfeit victory for their matchup against the Catamounts of Vermont on Sunday. However, Saturday games saw St. Joseph's (NY) take down Vermont 5-2, as well as Farmingdale 4-2. Cornell bettered Farmingdale 5-4 in overtime as well as edging out a nail biter 8-7 against Vermont on Saturday. With no National Championship, Division 4 teams are fighting tooth and nail to end the season, and things are getting interesting, as teams gain momentum closing down the home stretch.
The ECRHA has two more events, in Sewell, NJ, and the All Star Event in Old Bethpage, NY, before the Regional Championships. Teams are seeing themselves with anywhere from 4 to 8 games left on their schedule in those last two weekends, and every game matters. We have some extremely tight races across all divisions and it looks to be an exciting end of the year for the ECRHA.