WCRHL Repeats as NARCh Champion in NCRHA Division!
ECRHA finishes top in round robin but falls to WCRHL in the final
August 1st, 2011 at 5:16PM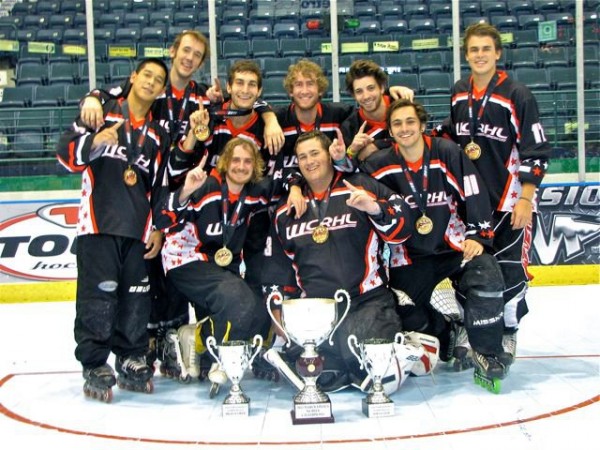 ---
Hopefully you followed the updates over the weekend on Facebook and Twitter. It was an exciting weekend, especially with the parity between the top 3 teams. It should also be noted that the MCRHL (#4 seed after round robin) only had 1 more Goal Against in round robin than the #3 seed and event champion WCRHL. Each of the 4 teams had players playing in Platinum, Pro, or both, many playing 4-5 games on Saturday.
Play started on Friday night, with each team playing one game. ECRHA and SECRHL would both jump on their opponents and win those first games. A shutout of the MCRHL squad was a highlight for the ECRHA, and the SECRHL defeated the WCRHL team by a score of 4-2.
Each team played 2 games on Saturday and the WCRHL would win both of theirs, defeating the MCRHL 7-3 and ECRHA 6-4. SECRHL and ECRHA would each go 1-1 on Saturday, creating a 3-way tie for first place. Since head-to-head was all even, the Goals Against tiebreaker was used and the ECRHA came out on top, with 9 goals against in round robin, compared to SECRHL's 10 and WCRHL's 11. The MCRHL finished round robin 0-3, but had a Goals Against of just 12. ECRHA would be the #1 seed, SECRHL #2, WCRHL #3, and MCRHL #4.
The semifinals on Saturday were the earliest games played for these teams, at 9:00am and 9:45am. MCRHL put up a fight against ECRHA, but ECRHA prevailed by a score of 5-3. WCRHL came out strong, avenging their round robin loss to the SECRHL, defeating them 5-1. At 2:00pm the stage was set for the Championship Game. This game was sandwiched between the Womens Platinum and Womens Gold Final, played on the Arena rink. In the end, the WCRHL defeated the ECRHA by a score of 5-1.
Individual player honors went to Erik Long (WCRHL - Cal Poly San Luis Obispo) for top goaltender and to Kevin Middlekauff (WCRHL - Cal Poly San Luis Obispo) for top scorer.
Congratulations to the WCRHL team for repeating as NCRHA Division Champion at the NARCh Finals! Thank you to all teams for representing your leagues with class and showing the fans what collegiate roller hockey is all about!